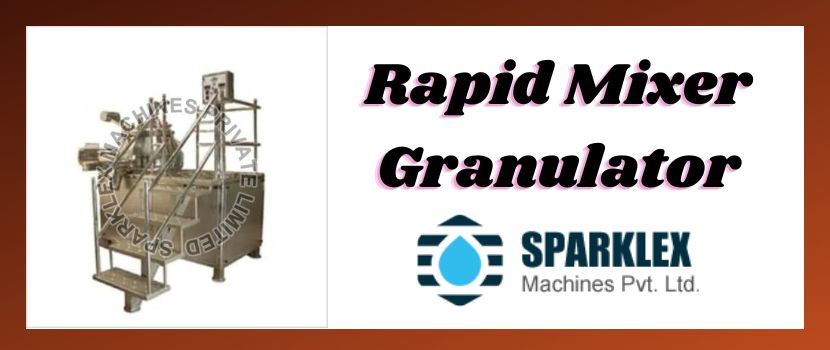 Innovation is crucial in the quick-paced world of pharmaceutical manufacturing. The Rapid Mixer Granulator by Rapid Mixer Granulator Suppliers is one such innovative creation that revolutionised the sector. The process of mixing and granulating medicinal powders has been completely transformed by this adaptable device. It provides a plethora of benefits that improve productivity and product quality.
Efficiency and Quickness: A Combination That Wins
Fittingly, RMGs are fast, which is one of their main selling points. These devices integrate the granulation and mixing operations into one device. It cuts down on processing time considerably. Conventional techniques needed specialised tools and time-consuming physical labour. RMGs save labour expenses and time by completing both jobs concurrently.
Homogeneous Blending: The Ultimate in Consistency
In the manufacture of pharmaceuticals, equal distribution of materials is essential. RMGs are excellent at producing homogeneity because they break up agglomerates utilising chopper blades and a high-speed impeller. This guarantees that each component is distributed equally. This consistency results in an end product that is of the highest calibre.
Improved Product Quality Is Essential for Adhering to Regulations
RMGs' regulated granulation improves the quality of the product. Operators may change features including mixing duration, batch size, and the speeds of the chopper and impeller. Consequently, this aids in preserving granule size uniformity. Strict adherence to pharmaceutical laws is contingent upon this exact supervision.
Decreased Material Waste: An Ecological Method
RMGs by Rapid Mixer Granulator Suppliers reduce material waste through effective mixing. This lowers the amount of waste that is disposed of, which improves the environment. It also lowers manufacturing costs for pharmaceutical businesses. Nature and business both stand to gain from this predicament.
Dust-Free Function: Prioritising Security
When pharmaceutical powders are released into the air, they can be harmful to human health. This issue is resolved by RMGs because of their dust-free, closed operation. The potentially dangerous dust is kept away from the operators. It guarantees a risk-free workplace and lowers the possibility of cross-contamination.
Simplified Upkeep and Cleaning
In the manufacture of pharmaceuticals, equipment cleaning and maintenance are essential. The goal of RMG design is to make maintenance simple. They can be quickly disassembled and have detachable pieces. It minimises downtime between batches and enables simple cleaning.
Scalability: Meeting Your Requirements
The scalability of RMGs is one of its biggest advantages. Manufacturers have a variety of sizes to select from to meet their unique manufacturing needs. Because they may modify the machine to suit their demands, businesses with different batch sizes particularly benefit from this versatility.
Process Verification: Comfort
Process validation plays a critical role in pharmaceutical manufacturing. By offering a repeatable and reliable granulation process, RMGs facilitate this. This dependability supports regulatory compliance and is essential to consistently high-quality products.
Upcoming Innovations
Future improvements to RMGs are probably in store as technology develops. Automation and integrated control systems are examples of upcoming innovations. It guarantees even more simplified and effective pharmaceutical business operations.
Pharmaceutical production has seen a paradigm shift thanks to the Rapid Mixer Granulator. It is extremely useful for combining granulation and mixing, assuring product uniformity, cutting waste, and creating a safer working environment. An essential tool for any contemporary pharmaceutical plant is the RMG. It's critical to be at the forefront of innovation as the business develops, and RMGs are setting the standard.